Yes its an empty lot, very astute of you. But it signifies a beginning, specifically the beginning of a Vulcan legacy that really isn't very Vulcan at all. But I get ahead of my self. Our story really begins in the distant future, in a solar system far far away....
Please allow me to introduce Tommek Ltwsgyvkz (Henceforth referred to as Vulcan, because I have a sore throat.) As you can see Tommek is a fine example of a Vulcan male and was intent upon working his way up to an admiralship in Starfleet when the unthinkable happened.
It seemed like a day like any other, Tommek was selected to lead an away mission to investigate a potential new source of energy. By amazing chance as his team were undocking from the SS Pinstar, a new Klingon recruit was modifying his replicator to produce
Gagh
just like his momma used to make. These innocent modifications resulted in a warp core malfunction which changed the polarity of the deflector array, causing the ship to emit a powerful beam of tachyon particles... right into the path of Tommek's shuttle. This series of unfortunate events propelled the shuttle 720 years into the past....
Tommek was the sole survivor of the accident, and was forced to crash land upon an alien planet. After burying his less hardy companions he concluded that the only logical thing for him to do was to attempt to integrate with the local community until he could be located. Using as much of the shuttles precious resources as he dared, he managed to replicate enough local currency to set himself up modestly within walking distance of his crashed shuttle.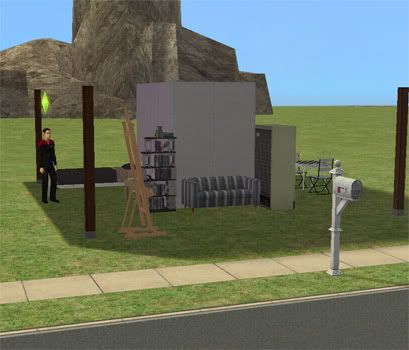 While he hoped that he would be rescued before he could make too much impact on the local society, logic prompted him to consider the possiblity that he may never be rescued. With this in mind he began his search for a job and a family.

And thus our story is begun. Will Tommek really be rescued? Or are he and his descendants destined to spend their life's amongst the primitive and sometimes ludicrous Sims? Stay tuned for more exciting adventures in A (not) very Vulcan Legacy.