Welcome to a rather short and sweet little chapter before we send the boys off to college. Luckily Paden has already gotten all the required skill points, unluckily that means I tend to ignore his want panel. Bryn on the other hand needs all the help he can get, and that means dates, lots and lots of dates.

Here Bryn is scoring his first kiss and first date with Whitney McArthur. He has got some smooth moves. Also it helps turning up to the date in your very own car.

Oh noes! Luckily Tommek is needing a lot of sleep, else we'd have a rampant infection running through Legacy Bay.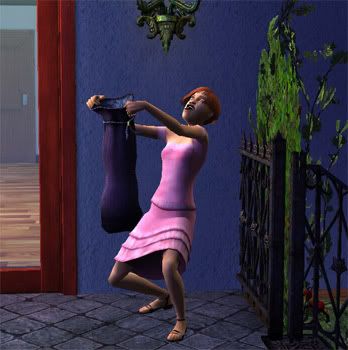 Whitney brings Bryn a Kareoke Machine. Gee Thanks. Luckily we'll sell it and Bryn will never see Whitney again. The life of a Romance Sim is devoid of moral dilemma's like that.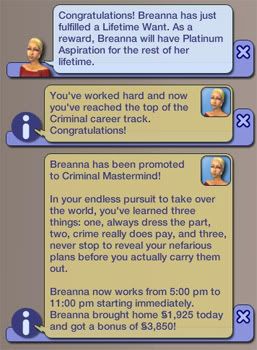 Yay Breanna! Now both adults are perma-plat, and I can pretty much ignore them. I did have a shot of Breanna in her Rubber Robber suit, however I'm guessing I pressed the wrong button and it is hidden somewhere in game. (I am addicted to the 'c' button, sue me.)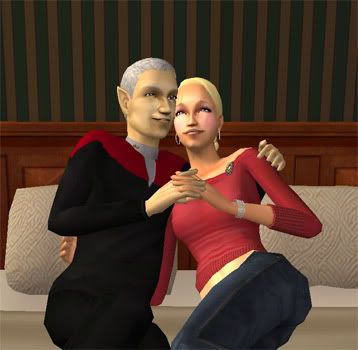 "Darling I believe we can safely resume our bedspring experiments. I believe my biological clock is finally running out of batteries."
"Really? Let me take my arthritis medicine, my 'happy' pills and my pain killers."
Awww Tommek is almost too old to woohoo. *sniiiiiiifff*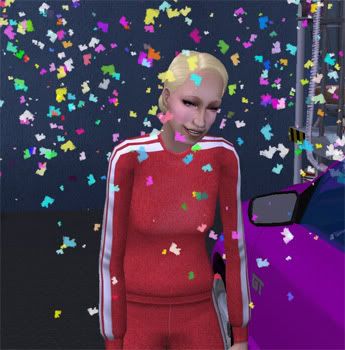 Breanna decides to age transition on the driveway and immediately bugs out. I immediately bugged out given the size of her snoz. A make-over is imminent.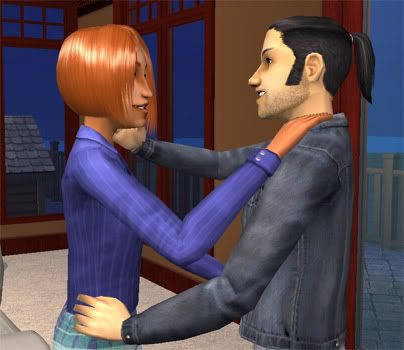 "Why hello there Chicky-babe!"
Bryn needs another aspiration boost, and seeing as he already has one girlfriend, we opted for bachorlorette number 2: Sandy Collin. Also note this is a home date, seeing as we really didn't want to explain about the whole 2 girlfriends thing.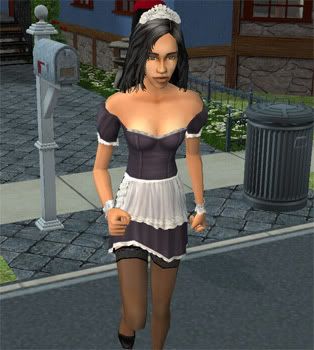 "Oh my gosh I hate this family! I've been good to them, so very very good. And they treat me like the hired help. I don't know how much more of this a girl can take. If I hurry perhaps I can make it to the comforting relaxing ambiance of the shooting range...."
Uh yeah, I have come to the conclusion that Claire may be a little unstable.....Which is great! Claire will indeed be Paden's one and only lady love!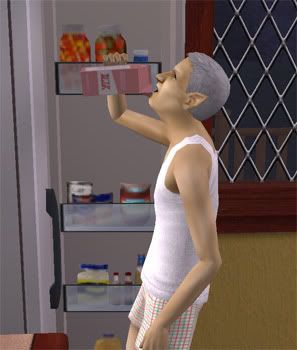 "*Glug glug glug glug* Milk is tasty, even if it does cause a reaction in my intestinal tract that makes me flatulent!"
Tommek!
"What?"
I strongly suggest you get some clothes on, I think the children are coming home.
"Good point."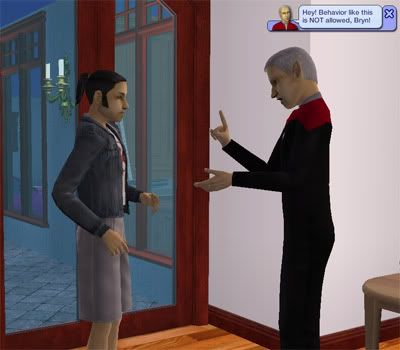 "I am very disappointed in you Bryn, I know we may be the only real family living in Legacy Bay, but there are very real dangers out there *pooot* See! I'm trying to lecture my son, and I can barely make myself heard over the gunfire. *pfffift*"
Nice save Tommek, who would have thought Legacy Bay was such a battle ground huh?
"I'd appreciate the tip-off before I start on the milk in future Ms Observer."
But that isn't nearly as funny.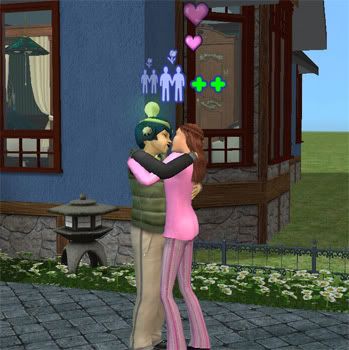 It's time for yet another study date pick me up, this time we use the services of Joy Weburg, a lovely young romance sim who has a 2 bolt attraction to Bryn. Again it's at the home venue because we wish to avoid the drama of unnessecary drama....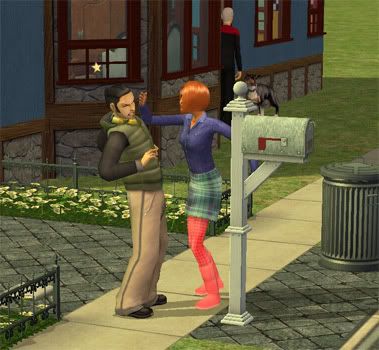 "How could you? With her too! I thought you loved me! We made out. I hate you Bryn. I really really really do!"
"Ouch!"
Looks like I spoke too soon. I guess I shouldn't have Bryn date the randomly wandering townies huh? Too much chance of a repeat performance at the exact wrong time.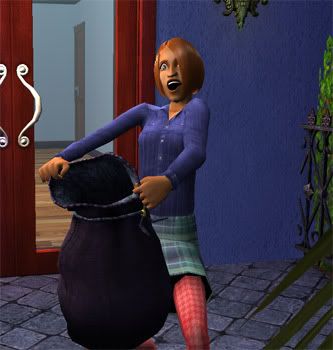 Yet some how, despite her loathing of Bryn, she finds the time to drop off a card table. I'm beginning to suspect that finding a sane woman in Legacy Bay is easier said than done. Joy, like the good little romance sim that she is, does not drop off any fat loot. After all there is less drama in her life that way.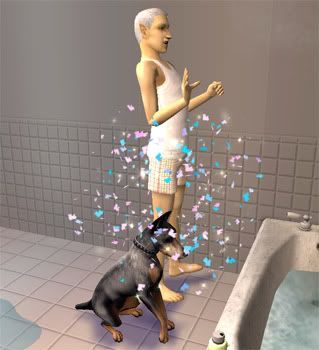 "I was under the distinct impression that one could not educate an aged canine in new behavior. This is most anomalous, and I feel the need to take some of my heart medication."
Jax also joins the growing Senior Citizens Club.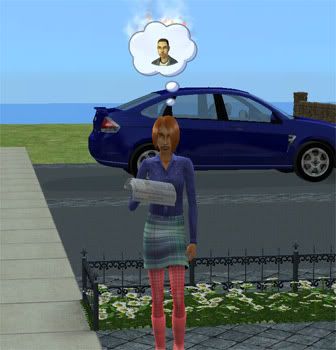 "Hehe this will teach him, even though not a single one of them actually needs the newspaper."
Once again I am astounded by Sandy's behavior. She will obviously continue to amuse me for many chapters yet.
Next time we visit the Vulcans, Paden and Bryn will be entering the exciting world of College, where I will see exactly what kind of Greek House they can rent for the amazing price of $15,000. See you then!