Yup. We're back here again. I know, I've already updated for this week. But I found myself with some photo's and I can't just let them sit in my computer gathering dust now can I? Of course not! So I'm sharing. I'm nice like that.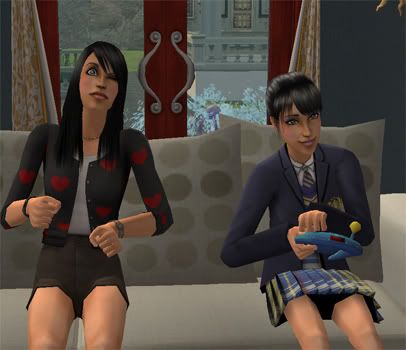 "Chardonnay, this doesn't happen to be a copy of the game that was banned in Japan because it caused fits is it?"
"Uh... no. Of course not, it's Hen's Hello Kitty Adventure Island game mum." *snicker*
Please remember Chardonnay was the apple of her grannies eye.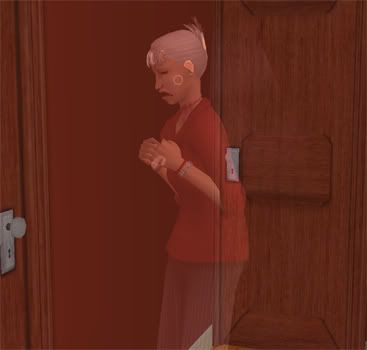 Speaking of Chardonnay's granny, look who has decided to make an appearance and have a sook at the spot she died in? Yay we have human ghosts now! Hai Breanna, transparent is a good look for you.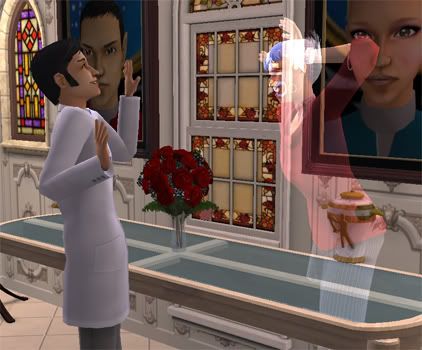 "Hai Granny!" *snigger*
Yeah, I'm beginning to suspect a certain teenaged knowledge sim gets his kinky little kicks from having the pee scared outta him. Question: If the ghost doesn't actually leave the mausoleum (despite actually having the ability to do so, as evidenced by the above photo) does one still get the free-roaming ghost bonus?
"....and then I said, what a stupid place to build a house and shop. Everyone knows with that beach access you could process hazardous chemicals and dump the waste straight into the ocean. But no-one listens to the paper boy, that's why I'm stuck delivering mail to you losers, instead of too a toxic waste factory...."
"Your story does not amuse the dread pirate princess Chardonnay. Be gone landlubber before I keelhaul you!"
Yeah the male teens of Legacy Bay have much to be desired. And I don't know where Chardonnay got the idea that pink cami jamjams were the perfect outfit for her dread pirate princess persona.
Bryn and Brandi know something is up. They spent the whole of this day hopping from Hot-tub to bed and back again. Today is the day that they finally transition into elders! It took them long enough.

"So this is what old age feels like...hmmm. *sigh.* It's kinda boring."
Of course the pair of them decide a synchronized transition was the best bet in potentially causing the game to have a spastic fit. But with the use of the handy-dandy pause button I managed to defeat their nefarious plot.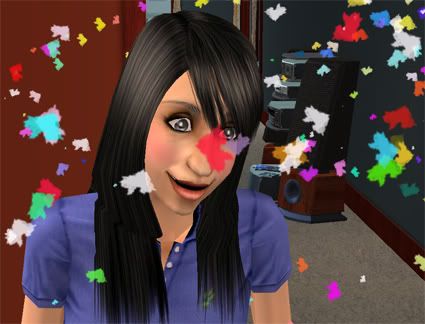 "My boobs are WHERE now?"
The first thing Brandi did was rush off to the Market to get herself some new clothes. She didn't spend all that time and energy becoming a Hall of Famer to have her bosoms relocate to her navel. I'm proud once more, figuring Brandi was the sort to grow old disgracefully I went on a downloading spree to find elder clothes that were tasteful, and still sexy.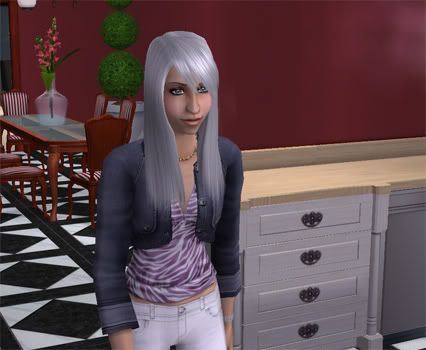 See only the barest hint of tummy skin, nothing too flashy, just the complete lack of gross bodily disfigurement. I adjusted her make-up as well, Elder skin just doesn't do colored hair or heavy make-up.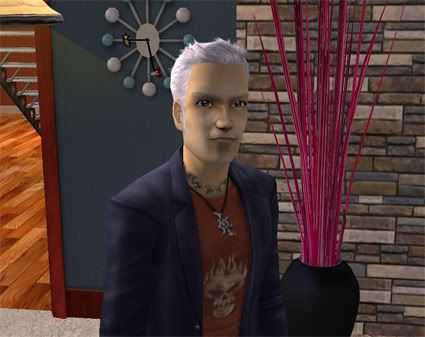 Of course Bryn needed no extra help to look sexy. I think he has to be one of the more attractive elders I've ever seen the game spit out. He is still very much a Rock God.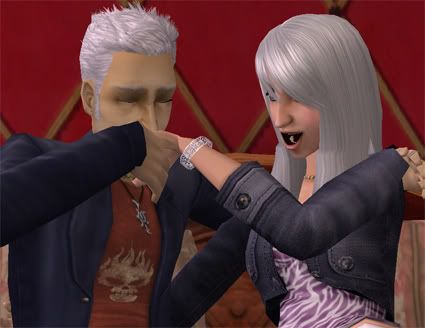 "Why hello there. Imagine meeting you here."
"Oh Bryn." *cackle* "You mean we can still woohoo? Alright!"
Of course just cos they grew old and had bladder shrinkage doesn't mean that the pair of them are going to slow down any time soon. Crazy kids!
Bryn loves his shop. Oh yes he does. He even cleans the windows. He doesn't even do that at home.

Today, Hennessy bought home his sisters stalker, and Chardonnay bought home her dads stalker. Amazingly enough all 3 girls (4 if you count Spiffy going spastic over the dancing) had a great time once Hennessy went off to work.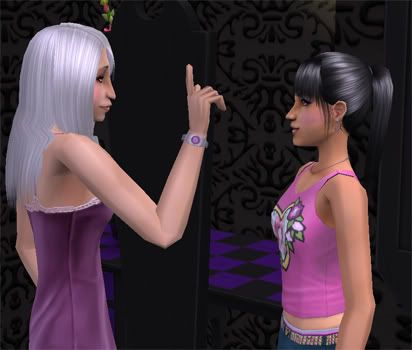 "Now that your father and I have gotten old, it's time for you to start thinking about university."
"I am. But the dread pirate princess Chardonnay cannot back down from a challenge, and I got demoted."
"Thats not the point. So you don't have that extra 750 simoleons. Big deal. Mummy needs a plastic surgery machine, so you better get yourself to college and enroll in the drama course."
"Yes mum." *sigh*
"That's my girl."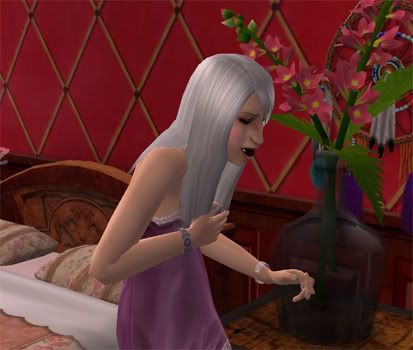 *cough cough cough hack hack splutter*
I'm beginning to think that Hall of Famers are involved in some type of military experiments. Tommek used to come home sick all the time too. Brandi has only been an elder for 2 days, and already she's come down with the flu.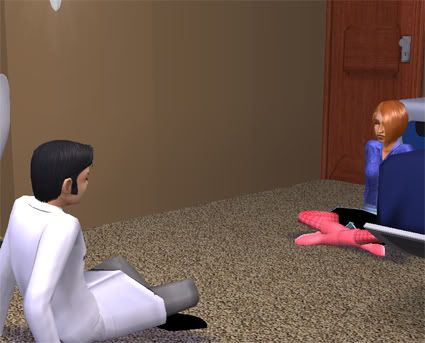 Do your parents know you've got a girl in your room in the wee small hours of the morning with the doors closed?
"You do know my parents are romance sims right?"
Yeees.
"You think they really care?"
Good point.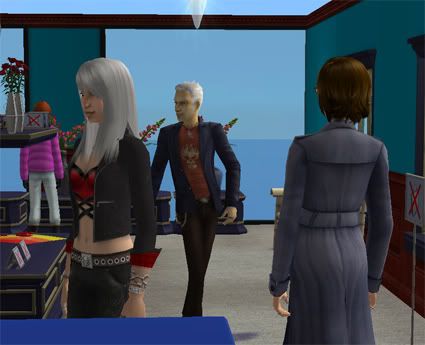 You better be sashaying towards your wife there Bryn.
"Uh...of course."
Your wife, not someone else's.
"Which one is she again?"
*facedesk* I think I have just worked out why Bryn loves his business so much. There was much pausing and action cancellin when I saw he was about to hit on Imaginary Me again. It's one thing to break up my imaginary relationship, it's quite another to sabotage his own.
Thats about all the time we have for the hijinks in Legacy Bay. I'm about to pack the twins off to college cos I want to get working on the next generation. Of course I myself (and not the imaginary me) have been invited to my nieces birthday party this weekend, so that should be a little confusing. 5 year olds twirl and grow up in a blaze of sparkles and confetti right?
Also I'll take the opportunity to thank EVERYONE who has written a comment at the end of any chapter so far. I read them all :D I may not reply, but I am reading, and it makes the writing much easier to know that my little corner of the interwebs is making others happy. Thank you again :D