It's a new year already. My how the time flies, especially when you have been infected with the worst summer cold ever. Yeah, but thats nearly gone now...I hope, and the Vulcans have been busy as they are wont to do. So without further complaining on with the story.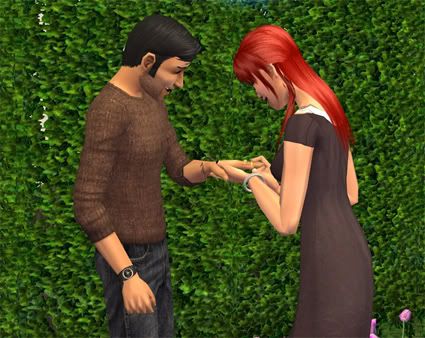 Hennessy and Genesis got hitched, now Genesis is officially part of the family. I did have them settled into one of the generic houses on spare street, however after reading how much everyone liked Genesis I decided that they should move into something more befitting one of the funnest spare spouses ever.

And thus, Hennessy and Genesis get to live forever and ever in this beautiful villa, and as you can see, Imaginary Lee has fallen in love with yet another house full of all the great things except children.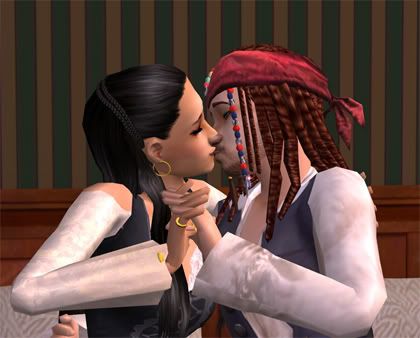 Back in the main house Chardonnay and Ian are finally the matched pair they were always meant to be.

And continuing the tradition, Jaffa passes into the great doggy-park in the sky the same day as Chardonnay returns from college. I don't deliberately plan that, it just sorta happens. Don't really know what Hennessy is doing there...


In order to maintain my record of 3 bolt marriages (and marriages that match aspirations) we send Ian to the great electronical reprogrammer. The operation was a great success, now he also rolls up wants for a puppy or a kitten or a puppy/kitten. Great.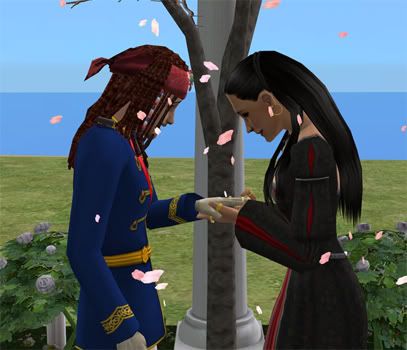 "Finally! I've been lusting after you since I was a teenager! Now I have claimed you for my own in front of my friends and family can we please get to making the babies?"
"Any thing you say luv. Want to get in a little practice first?"
Admittedly, Chardonnay becoming obsessed with pirates was just a bit of a lark, however add Ian to the equation and well they are awfully cute. Ian joins the family with a suitably pirate themed ceremony.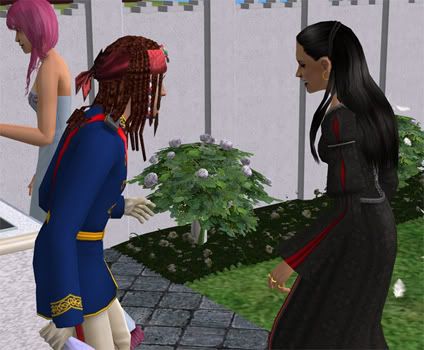 And the pair of them seal their nuptials with a typically Vulcan, not very piratical pillow-fight.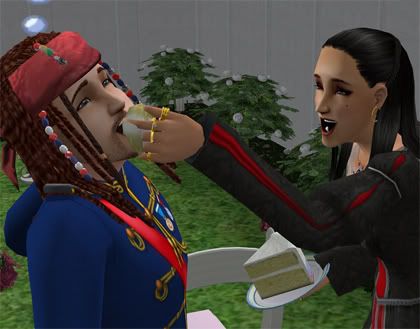 "Open up! Tee hee hee."
"Murfle murmf!"
Everything is better with a little cake. It certainly makes up for the fact that I think the lot is bugged or something, because much like her parents, Chardonnay had not one, but two wedding parties before she went off on her honeymoon. One was good, one was bad, and they remember both. This makes me a sad panda.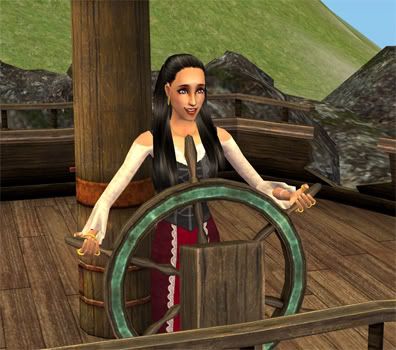 "Finally a ship of my own! Hard to starboard you scurvy landlubbers if that fat merchantman gets away from us, I'll take your share of the booty out of your hides!"
Of course given that the pair of them are somewhat piratically inclined they spend the majority of their honeymoon scampering up and down the boat. They loved every minute of it.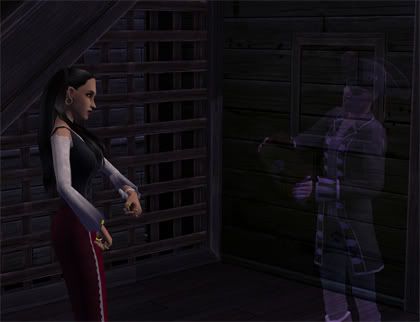 "Yo ho ho a liber liber wee...."
Yeah. I know I said it was annoying, but cv'mon, if there was anyone who deserved to spent some quality time with a real life pirate ghost it is Chardonnay. And this way her pirate obsession will actually be passed down for a couple of generations. Yay?!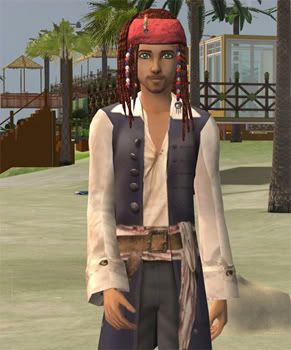 Name:
Ian Mamuyac
Aspiration:
Family (Formerly Fortune)
Star Sign:
Cancer
LTW:
Graduate 3 children from College
Turn-ons:
Full Face Make-up, Black Hair
Turn-off:
Vampirism
Personality:
5 Neat, 8 Outgoing, 6 Active, 4 Playful, 2 Nice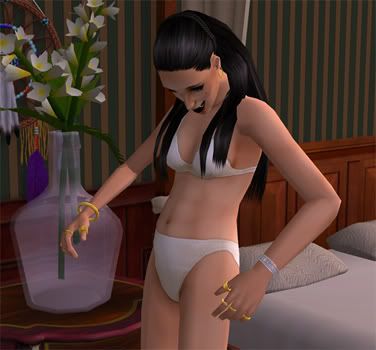 It appears that not even the appeal of the pirate ship could interfere with a couple of family sims and their desires to produce more offspring than is sane. For behold, there is the belly that heralds the arrival of generation four!